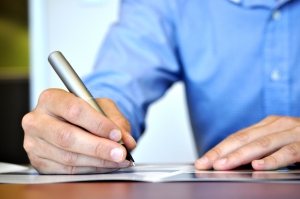 Sometimes it can be hard to crank out as many blogs as you need for the week. But it's absolutely necessary to update your blog at least three times a week with relatively short posts of advice or news about your business. How can you do that when you just can't find the motivation to do so? It can be tough, especially if you haven't been writing for very long or have just started your blog. Still, anyone can write a few thousand words per week –it just takes some practice and tricks. Here are a few for you to consider.
Write for a Particular Amount of Time
Some people don't do well with timers, but many writers find that they can really help them be prolific. The writing you do on the timer doesn't have to be absolutely amazing either – the point is to write, not to edit. There will be plenty of time later on for editing, and right now the focus is getting out enough "raw" material to edit later. Throw words on a page that pertain to your topic. When you're missing facts, put question marks or x's to remind yourself to look up those facts later on when you're in the editing stage.
Write in Front of Others
When you're having a ton of trouble focusing on writing, sometimes a change of environment can help you find your writing voice again. Try taking your work to a café or coffee shop. Sometimes a simple change can refocus your efforts, and sometimes you feel pressured by those around you to write because you don't want them to know that's not what you're doing in front of your computer. The repetitive hum in a coffee shop environment can sometimes be the additio